ASI Action Pistol Match 2 to be held in March
This Saturday, March 11 the second ASI (Action Shooters International) match will take place starting with registration at 11am and actual shooting at noon.  Cost is $20 and you need a pistol, any caliber, and a couple magazines.  Members and nonmembers are welcome.  Give Caton McBride, copied on this note, a heads up if you're coming.  There is a fair amount of prep needed for these matches and it helps a lot to know approximate participation numbers.   Results for match 1 are posted HERE.
ASI Action Pistol Matches coming to PCGC
ASI action pistol matches coming to PCGC in on the first Saturdays of January, February, and March.  These will be test matches prior to the Board deciding to extend the events.
PCGC, led by Caton McBride, is introducing an ASI (Action Shooting International) pistol match for the first time in January.  The first three test matches will be on the first Saturdays of January, February, and March. Dates are on the calendar.
Each match will start at 1200. Registration, depending on weather, will be in the club house or at the pavilion at the pistol range and starts at 1100. New shooter briefing at 1145am.  Cost per shooter is $20.00 and ALL shooters must register.
Any caliber handgun may be used. A holster is preferred but not required but the handgun must be in either a holster or bag, UNLOADED, and VISIBLY LOCKED OPEN if a semi-automatic. Shooters will need at least 50 rounds of ammunition, extra mags if available, hearing and eye protection.
The range will be "cold" at all times except when a shooter is shooting under RSO supervision.
The link with the rules can be found at ASI-USA.org.  https://asi-usa.org/rules/
A video link of several sample scenarios can be seen here:  https://www.youtube.com/watch?v=xZjtA9NSd3Q&authuser=0
If you are interested in participating in the match, please email Caton at  [email protected] or call at 8282201778. He would like to have an idea of the attendance.
VOLUNTEERS NEEDED:  There is a need for helpers at the matches.  We will need a few people to serve as RSO's, score keepers, and target preparers.  We also could use an extra shot timer if anyone has one of those.
New Long Range Handgun Match Announced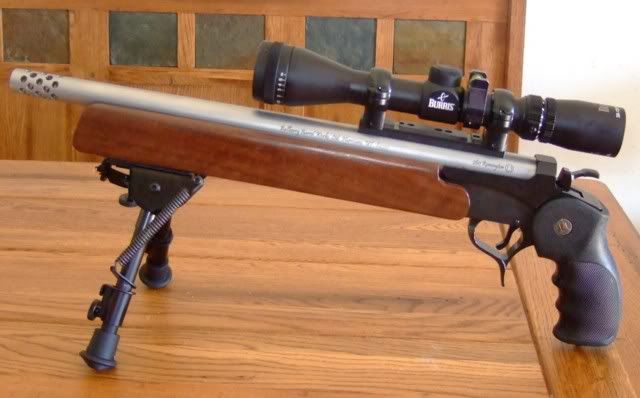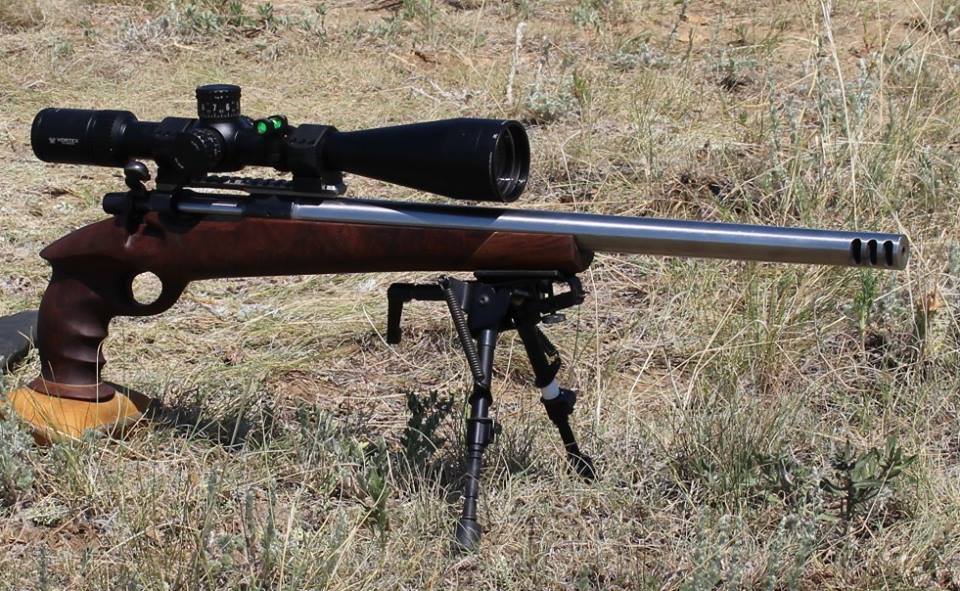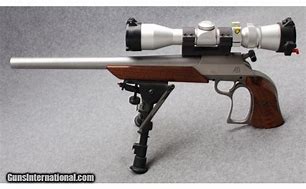 Polk County Gun Club is preparing to host a unique new match:  Long Range Handguns.  This match is intended as a fun competition for folks with handguns that could be used for varmint hunting at typical varmint ranges, with a paper silhouette of a groundhog as the target.  The match is short and simple and has two classes:  centerfire handgun with the groundhog target at 300 yards, and rimfire handgun with the groundhog target at 100 yards.  The match consists of twenty shots for score in fifteen minutes.  The groundhog targets have scoring rings so that the maximum possible score is 100 points.
Since this match somewhat reflects a groundhog hunt, there are no "sighter" shots.  Participants set up their equipment and shoot just like they would if they were banging groundhogs in Bubba's hayfield.  It is assumed that the handgun will be "scoped," and scopes should be handgun/long eye relief (LER) scopes rather than rifle scopes.
The emphasis is on practical hunting handguns rather than expensive handgun versions of a benchrest rifle, so participants must be able to move all their shooting gear onto the firing line by hand in one trip.  (Disabled participants have special allowance, of course.)
As currently envisioned, this will be a monthly match held on the first Tuesday of the month at 7 pm in the evening.  Participants will show up at 7, set up targets, shoot, and score all in a time period of about 45 minutes.  First place winners in each class will be awarded a cash prize drawn from the registration fee of $15.  (A class must have three or more participants for a first place cash award.)
The first Long Range Handgun match will be held at 7 pm on Tuesday, 2 August.  Two additional matches are planned (first Tuesdays in September and October). Anyone wanting simply to observe the activity is 
welcome, and in our first match on 2 August, observers will have an opportunity to fire one or more handguns to see if they enjoy the sport.
For advance registration or questions and additional information, please contact Dan Henk at (828) 440-1029, email:  
[email protected]
.
New Vintage Rifle Tournament Announced
PCGC will sponsor a new, quarterly tournament series beginning in 2022:  Vintage Rifle competition. This will be a Saturday morning tournament with three shooting class options. -- Option one will be a vintage rimfire class, fired at 100 yards, with pre-1946 rifles (rifles of a design introduced no later than 1945). This option will have two subclasses:  iron sight and scope sight.-- Option two will be a buffalo rifle class, fired at 300 yards off shooting sticks, with single-shot or lever action rifles of a design introduced no later than 1896 firing a cartridge of calibre .375 or larger introduced no later than 1896. The target will be a specially designed Polk County Bison with scoring rings. This option will have two subclasses:  iron sight and scope sight.-- Option three will be a "mini-buffalo challenge."  This will be a single-shot, rimfire match shot off shooting sticks at 200 yards on a reduced-size bison with scoring rings. Rifles must be of a design introduced no later than 1896, not including bolt-action, using period sights (iron or scope). A match consists of twenty shots for score with unlimited sighters. The tournament will consist of two relays (one match per relay) so shooters have the option of shooting up to two matches in the tournament. Awards are specially designed PCGC medals for competitors with first, second and third highest single match scores in each subclass.  Match dates in 2022 are 29 January, 30 April, 30 July and 29 October. (A tournament originally planned for late October of this year could not be supported logistically and had to be postponed.) An announcement with more tournament details will be disseminated later this year. Tournament Chairman is Steve Bengston.
Modification to Buffalo Rifle Shooting at April 30th Event
Polk County Gun Club started its Buffalo Rifle/Vintage Rimfire shooting season with a tournament at the end of January.  The next in this series is scheduled for the fifth Saturday in April, April 30th.  The April tournament will allow shooters to compete with a new category of rifle in an experiment to determine if there is enough interest to make the change permanent.
As currently organized, the Polk County Gun Club Buffalo Rifle/Vintage Rimfire tournaments offer three distinct competition classes:  full scale "buffalo rifle" at 300 yards, rimfire "mini-buffalo" at 200 yards, and vintage rimfire at 100 yards.
In the April tournament, the mini-buffalo class will be expanded to include small-capacity vintage center-fire cartridges.  The new Mini-Buffalo center-fire option is intended for shooters that want to compete with vintage (or reproduction) single-shot rifles chambered for small-capacity center-fire cartridges like the .25-20, .32-20, .38-40, .44-40 and .45 Long Colt.  To qualify, the rifle design must be single-shot and introduced prior to 1897.  The cartridge also must have been available in 1896 and is limited to a nominal capacity of 40 grains of black powder (although any propellant is acceptable for the match itself).  Bullets must be lead, either cast or swaged without copper jackets.  Bullets may be breech-seated.
As in the rimfire mini-buffalo competition, iron sights for center fire rifles must be of a style available in 1896.  Scopes must be externally adjusted, with bodies no larger in diameter than ¾ inch and objective bells no larger in diameter than 1-1/4 inch.  Mini-Buffalo rifles will be fired off shooting sticks (bench rest, sitting or prone) with no artificial support to the butt stock.
PCGC "buffalo medal" awards will be presented to winners of the iron sight and scope subclasses. Issue of awards requires at least three shooters in a subclass.
For more information please contact Steve Bengston at: [email protected] or 864-612-9903
Dan Henk at: [email protected]
Polk County Gun Club 2022 High Power Rifle Schedule (20 Competitor Limit)
The Polk County Gun Club (NRA #B0380) will be holding approved high power matches on the following dates: April 16, May 21, June 18 , July 16, August 20,  September 17. 
We have a 300 yard range utilizing 10 firing points. The matches are run with the Silver Mountain Scoring System utilizing two relays. We recommend that each competitor bring a "electronic tablet" to make viewing their target image easier. 
Competition is open to everyone. Entry fee is $20.00 which includes the NRA fee. All NRA high power rules will apply.  National Match Course of Fire 
You can register by mail: 
Polk County Gun Club Inc. 
c/o Sam Summey
103 Gordon Drive
Flat Rock, NC 28731 
Send your entry fee by check or money order. Please note on envelope attention High Power Registration. You can also register up to 9:00 AM on the day of the match. 
There will be a 10 minute sighting in period beginning at 9:00 AM with the match following afterwards.  
The course of fire will be as follows: 
20 rounds standing slow fire at 200 yards 20 minutes

20 rounds rapid fire sitting/kneeling at 200 yards in 60 seconds per 10 round string
20 rounds rapid fire prone at 300 yards in 70 seconds per 10 round string
20 rounds slow fire prone at 300 yards using reduced targets for 600 yards in 20 minutes.

 
 Directions: 
(From the North and West)
Interstate I-26 E to Exit 1 in South Carolina (Hwy 14). Turn NE (left), 3.5 miles to Little Mountain Rd, turn left (NW) 0.8 miles. Polk County Gun Club is on the right (look for red sign and red gate). 
(From the East)
US74 W to Exit 167 (Hwy 9) turn left (SE) 3.2 miles to Hwy 14 (Landrum Rd.) Turn right (SW) 2.4 miles to Little Mountain Road. Turn right (NW) 0.8 miles. PCGC is on your right (look for red sign and red gate). 
For information contact Sam Summey 828-606-3080 or by email [email protected]